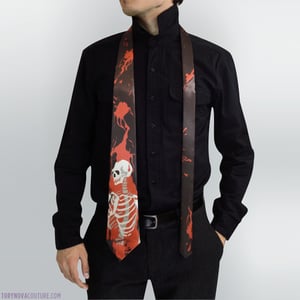 $

90.00
The tie coordinates with the Carmen Dress, however it also works as a stand-alone piece. The tie is ornamented with TNC'S original artwork inspired by Georges Bizet's opera "Carmen." A skeleton is depicted on the tie with a backdrop of spilled blood. It represents the ominous prediction in the tarot cards for the fiery gypsy Carmen.
GARMENT DETAILS
Ready to be shipped!
Hand tailored and printed in the USA.
100% Polyester printed satin;
Suggested dry clean.
About 60" Long;
4" At its widest point.
Colors: dark brown, rust, beige, tan.
NOTE: You may place a custom order for the same tie with a BLACK background, which will take 3-4 weeks to complete and 3-10 days to ship. Be sure to notify us of your request.