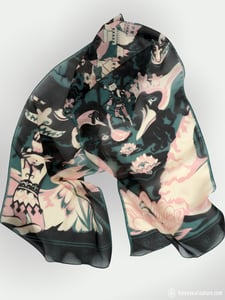 $

115.00
The scarf is printed with TNC's original visual interpretation of Tchaikovsky's famous ballet "Swan Lake." It tells the tragic love tale of Prince Siegfried and Odette, a princess turned into a swan by an evil sorcerer. Our Wearable Stories Collection transforms the wearer of each accessory and garment into a silent visual narrator.
GARMENT DETAILS:
Scarf is ready-to-ship or is available for pre-order in larger quantities!
100% Silk chiffon, printed in the USA.
14"x72" inches.
Rolled baby hem.
Dry cleaning suggested.
Refreshing dark palette of black, forest green, peach, and cream.
Simply divine one of a kind silk scarf, printed with our artist Tory Novikova's story-based illustrations. This elegant scarf is beautiful and feather-light to wear over one's neck or hair. A perfect accessory for Summer and a must-have for every pretty lady!